Using Everyday Items These People Made The Most Amazing DIY Creations
It's a reality that when some people talk about recycling, upcycling, and DIY crafts then they are also capable of it. You know better that we are talking about what kinds of projects. We all have an amazing friend that makes us wonder who comes up with fabulous creations, how did you manage that on earth?! Some people's creativity and state of art are genuinely remarkable from textiles to woodwork to jewelry making and painting, and tons more besides. Let's look at some example DIY projects that genuinely look too much attractive!
A Colorful Handmade Gown
Talk about something that looks too beautiful that's why they took a lot of time and effort. It's a poofy gown with three colors like a blended painting layering one another. Its a really gorgeous. First, the top of the dress is blue-gray, then the color changes into a lighter blue. Then a dark purple, layered with a light purple. Finally ending with a pinkish purple and the back blue-gray ribbon tied in the back.
A Monumental Lamp
The shape of a safety pin could be changed into a lamp you cannot even imagine that. However, now we now live in a world where everything is easily possible. To invent something so original and practical this Reddit user certainly used his imagination. A giant safety pin lamp has been created, made out of aluminum and 3D printed parts. The light turns off when the pin is closed; and the same that when the pin opens, the lamp turns on.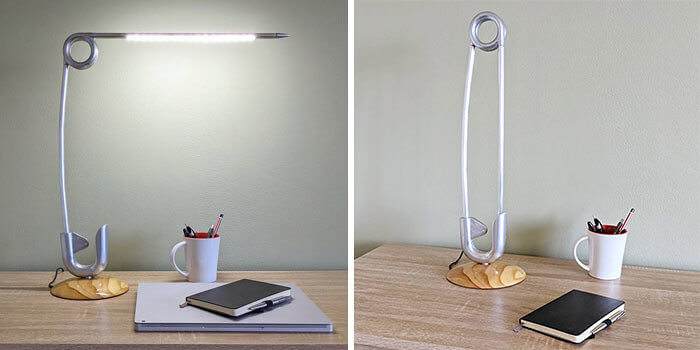 A Beekeeper's Necklace
This necklace is really a beautiful accessory – it's practical to look at is just seems to be a piece of art. Here a beekeeper has saved the pieces of honeycomb they've taken from inside their hives with resin. Getting this piece to look so shiny and clean it's not a simple task. To achieve the final product represented in the picture a lot of careful wash-out and drying would have been done. labor of love is beautiful!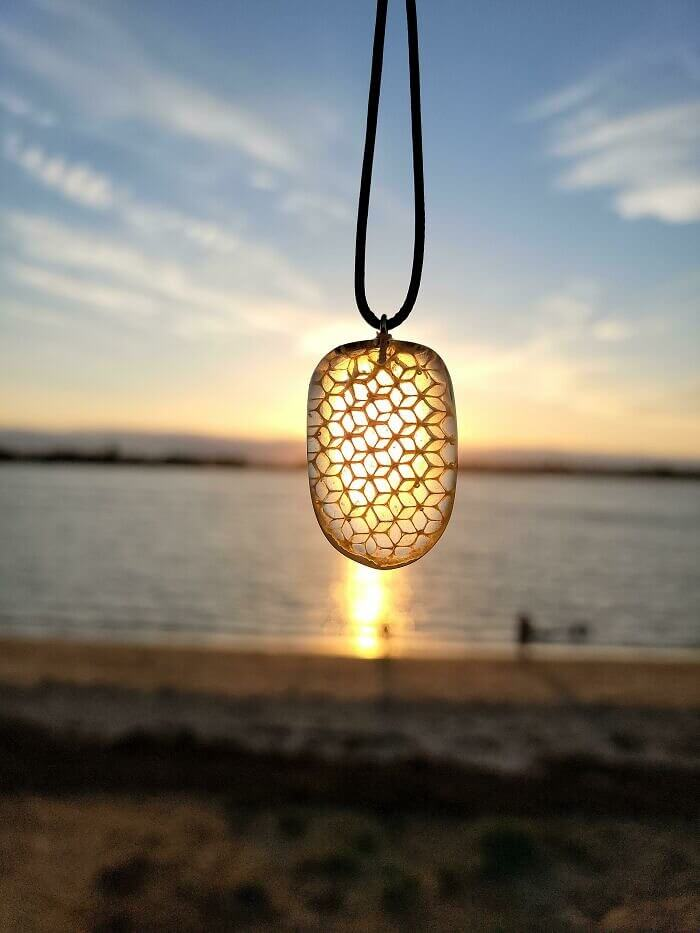 A Painting Made by The Next Van Gogh
This next creation is a painting of a giant stormy wave that is painted by a talented and genius young artist. With thick brushstrokes, and famous swirl shape movement her style is somewhat similar to Van Gogh's starry night. The colors also remind us of Picasso's blue period. As the blue, white, and black mix into each other, blue becomes the controlling color. By which the painting almost looks like blue monochrome.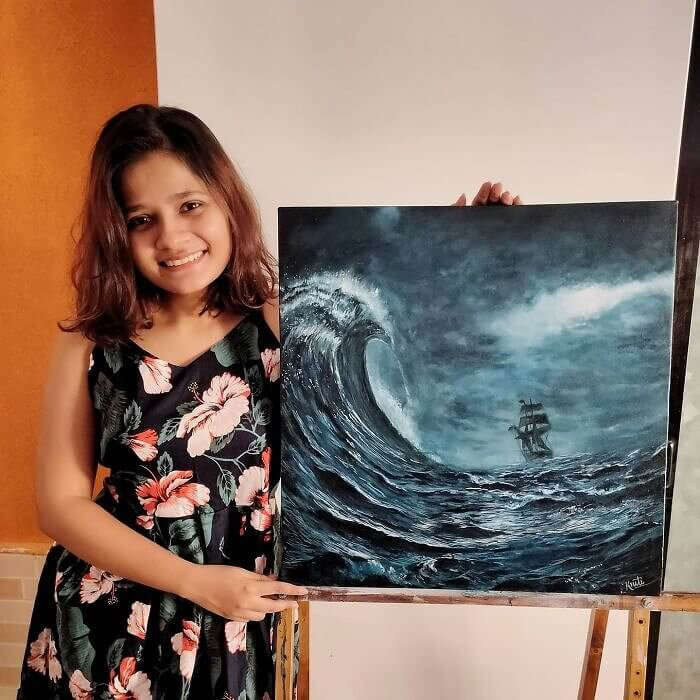 A Luminous Necklace
An enchanting turquoise necklace is here in the picture that also emits light. Yes, you heard correctly. By using the precious metals, resin, and glow pigment, this piece was made. To emit the light it later absorbs light. How much cooler is that?! At night this glowing necklace would look incredible, and would also be a fun talking point.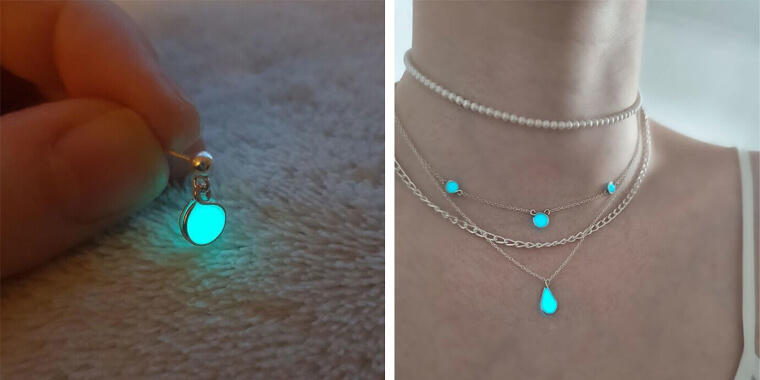 The Ultimate Bumper Sticker
This artist about women creates bumper stickers challenging disgusting narratives. In this sticker of the picture, "I like my women like I like my coffee like in the workplace strong and valued ". To finish the daily stresses of work the creator is a social worker and enjoys this creative outlet. The Reddit user at music festivals also added that they started selling their bumper stickers. And then purchase tickets to music festivals, which they were eager to attend.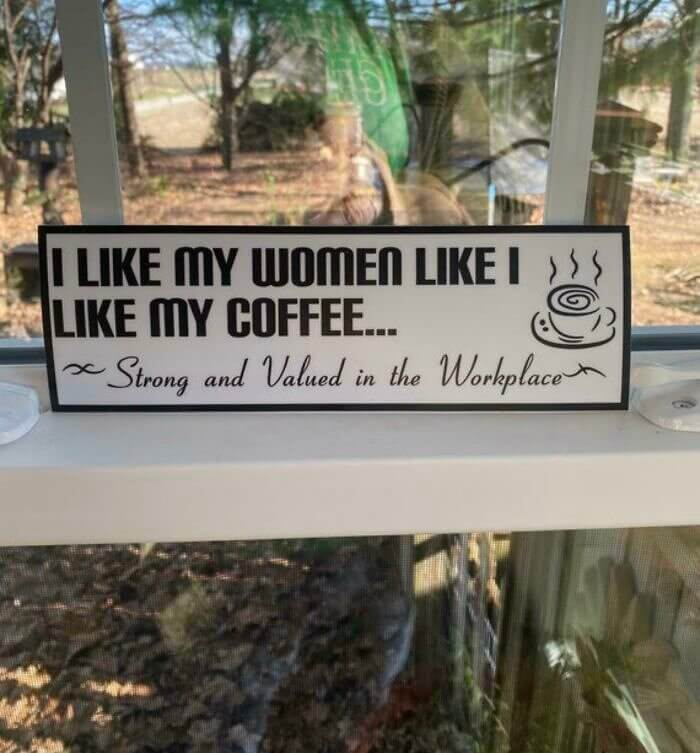 From A Wedding Purse to a Keepsake Pillow
prepare your tissues! This beautiful keepsake pillow was actually a wedding purse. However, it somehow got wasted and ruined in the rain after 27 years of storing it. So for her mother's 27th wedding anniversary, this creative artist did something lovely and thoughtful. She became successful to save the purse and then changing it into a keepsake pillow. The purse has been given a new lease of life. Then you can see and look at or sit comfortably on the couch now it can be used as something beautiful.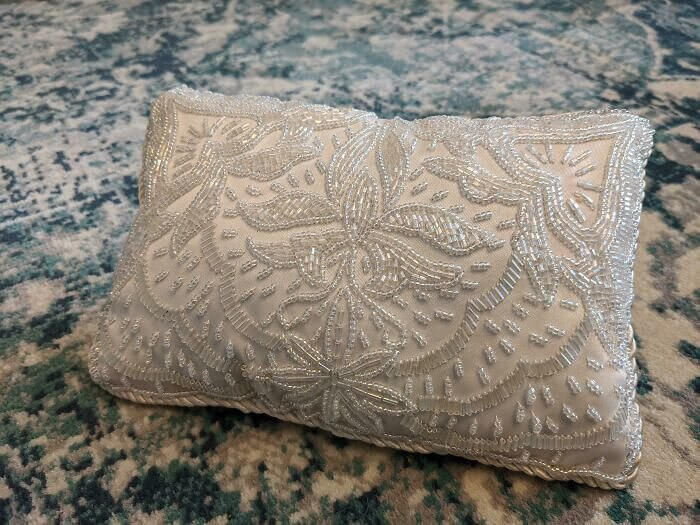 A Pretty Painting of a Sunbathing Pitbull
Some of the dog lovers' pictures are here out there. We all need a moment of serenity with the daily tensions in our crazy busy lives. This painting will exactly do that. A colorful pitbull, with its eyes closed, meditates and enjoys the sun in a bed of pretty flowers. It's a beautiful and colorful watercolor portrait. We can also imagine that the multicolored dog complements the bright flowers. On the other hand, the light yellow background seems to represent the sun.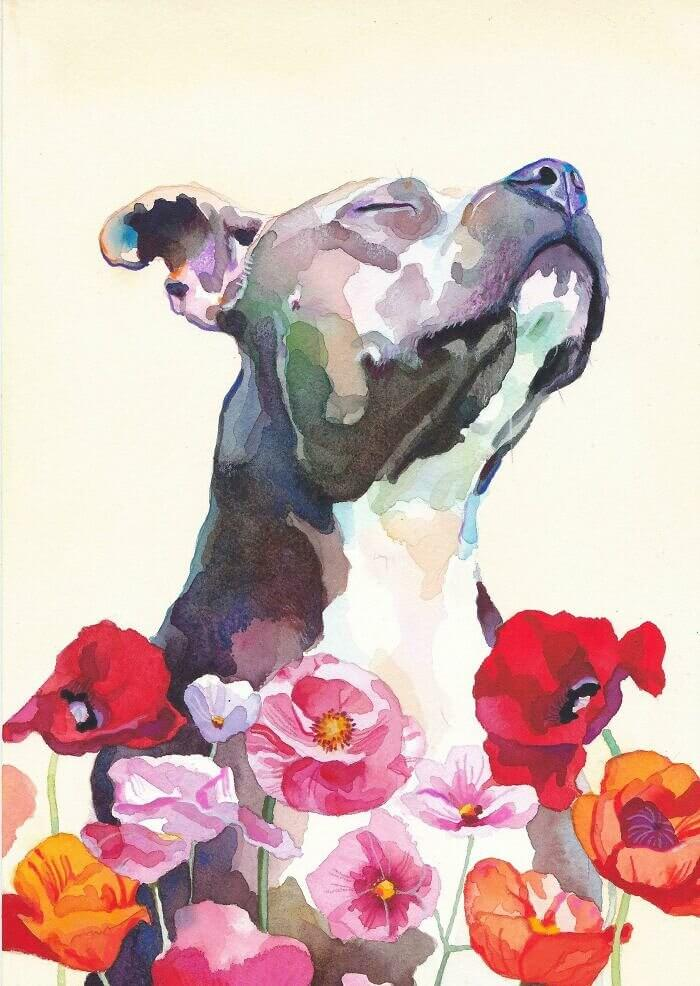 A Combination of Backgammon and Nature
This Reddit user created a backgammon set and a bio-resin inlay of pressed Fern made out of beech wood. From time to time, the colors of the leaves change, as all things do in nature. The board is from the 80s restored vintage piece and as such does show a few signs of its age. The pieces of the counter are different. The choice of factory-made wooden counters or hand-sliced birch branch slices are given to the buyer.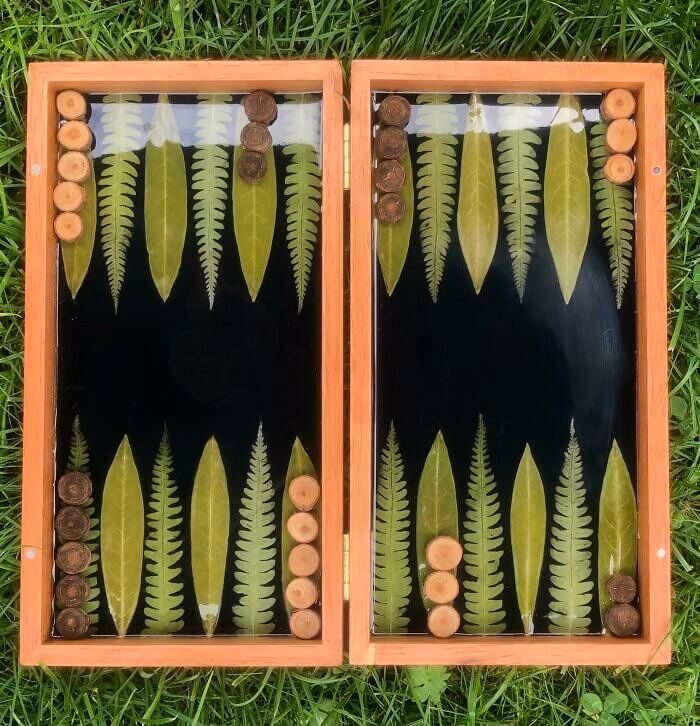 Meet the Talented Carver and His Eagle
Meet this talented artist who carved this impressive and amazing eagle from a white oak tree stump. It may be too large and it's difficult to be brought into the home. But certainly, it's found a home outside in nature, in its natural habitat. The eagle's face and wings are pale browns in color, while his feathers and wings are dark browns. Just look at the intricacy of the feathers, this must-have taken enough time.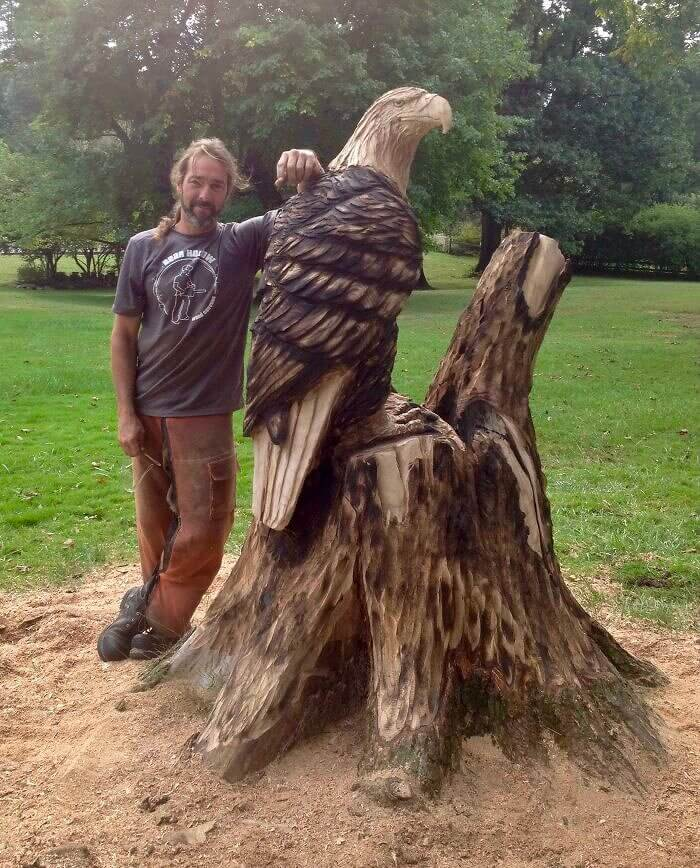 Dreaming of Childhood
Motherhood is full of joys, and it seems like one of those advantages is designing your baby's nursery. So to focus on getting her child's nursery ready this mom decided to use lockdown. We're looking at clean and clear hand-painted scenery of her favorite childhood comic strip here. "Calvin and Hobbes," in 1985-1995 which was created. Some classics even 30 years old never get old and this is undoubtedly a great example!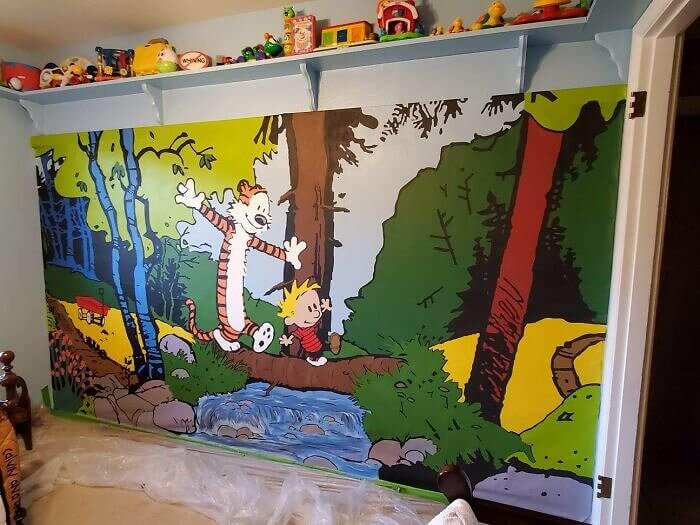 Three Organic Creations in One Picture
The artist's son is present in the model posing picture. He's one of the biggest fans of knitwear, Neil Degrasse Tyson, and the Cosmos. so this Reddit user created a hat made out of yarn that glows under blacklight and like space lights up.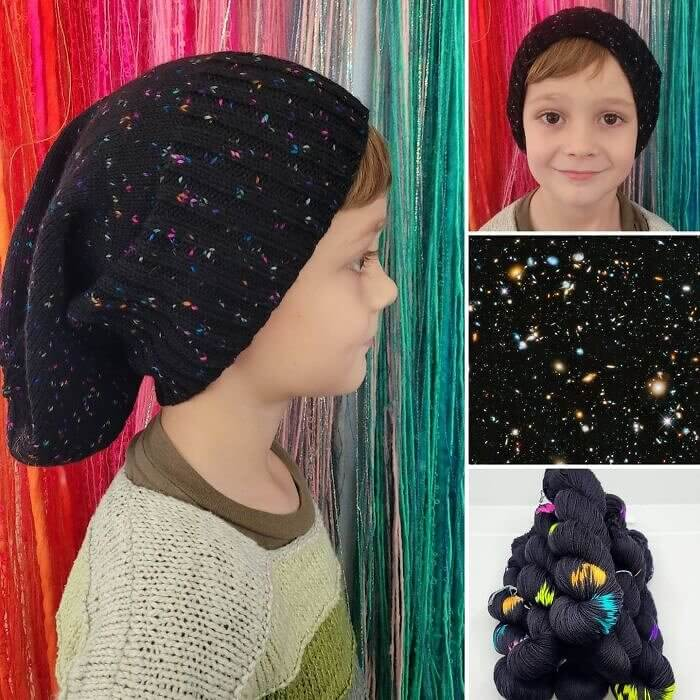 Two Impressive Portraits Painted on Top of an Acrylic Pour
A portrait of Medusa is the first painting, known from Greek mythology, the Greek goddess Athena was punished by her. In contrast, the second painting is a portrait of wearing a veil like a nun. Which is also painted from an acrylic pour, different colors including purple, turquoise, dark blue, and white are used.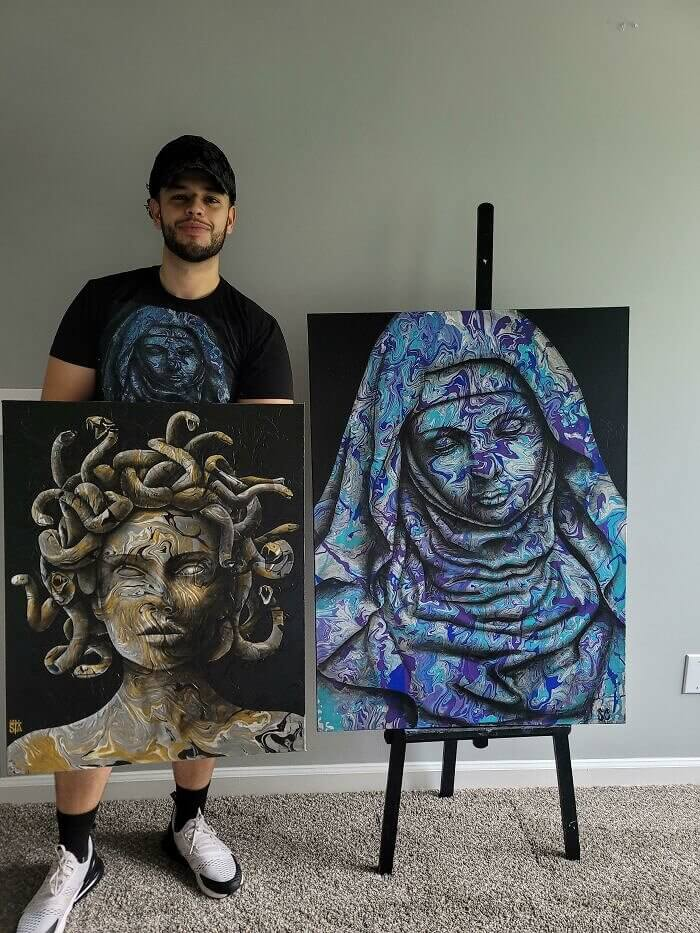 As a Fake Security Camera A Birdhouse Shaped
He's a handyman too to finish this project off. This piece was made with different things including scrap plywood, a wooden rod, a jigsaw, sanding paper, nails, and glue. We know that the security camera doesn't look real. We like to think that as security guards the birds can act, and look out for strange people coming their way.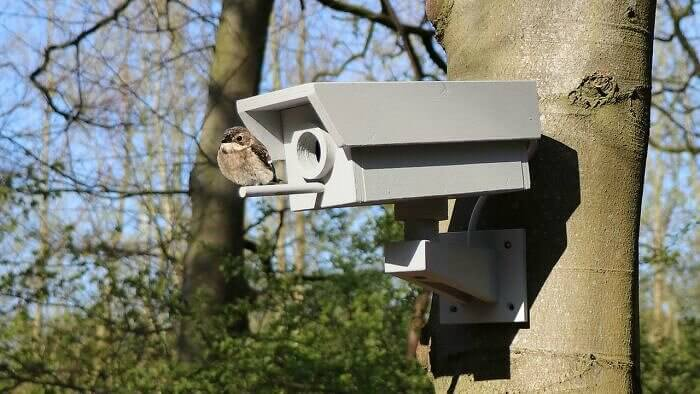 With a Twist Floating Shelves
These wall decor wooden shelves were made from edge-banding veneer using bent lamentation. The wood is made from actually oak and MDF, which is created with a circular saw and a router. The shelves hang in a distinct pattern and are white, small, and circular. Then there's a brown unexpected direction that is made out of veneer.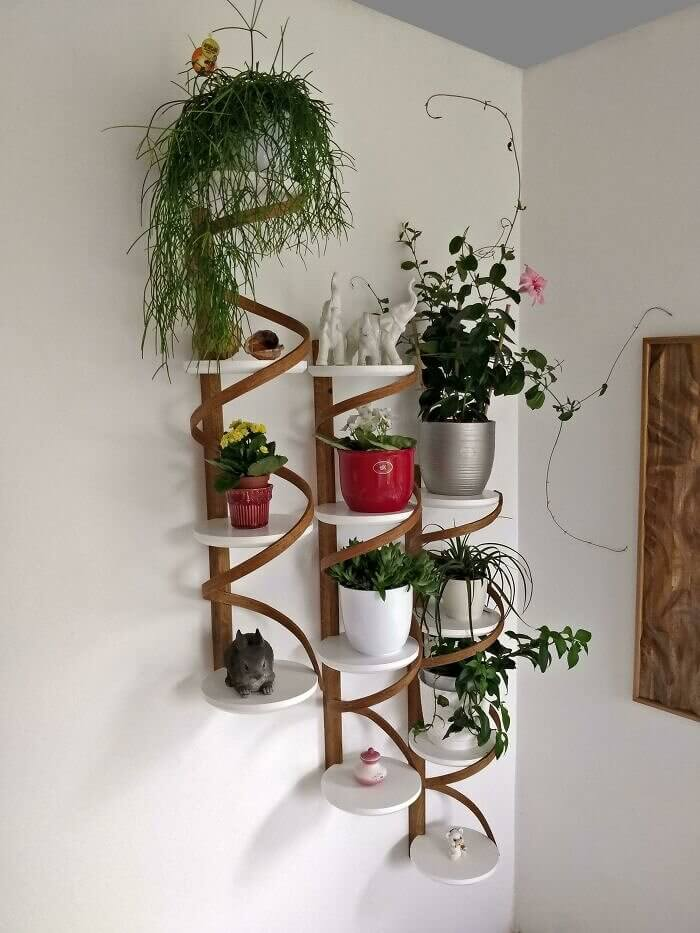 This Clever Person Handmade Her Own Amazing Wedding Dress
This gorgeous full-length cream color wedding gown is the jealousy of the office. Whoever made this with this stunning dress paid real attention to the detail. We especially love the lace paneling running down from its shoulders. And bodice right through to the floor in the front of this handmade gown.
Small But Perfectly made Hand-Painted Trinket Triceratops
This crafter is definitely a dinosaur fan, particularly a fan of Triceratop herbivores. Which 68 million years ago were around in what is now North America. These look like from clay or china they've been hand-crafted and then white painted with hand.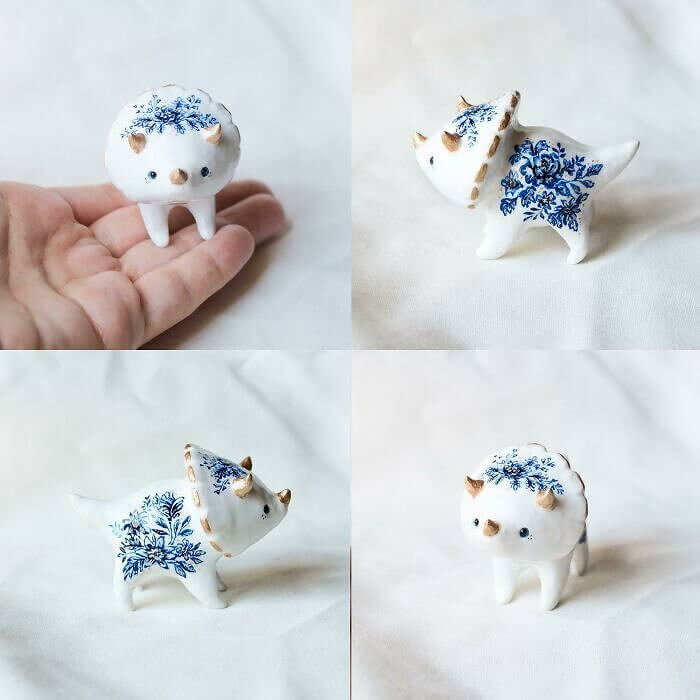 In Pastels A Portrait of a pet That Looks As Good As A Photo
This pet portrait is really clever and unbelievably lifelike. The pooch looks so fit! To create this beautiful portrait of a family pet this artist used pastels and pan pastels. There's no need to say that we can see that lot of time and work has gone into this piece.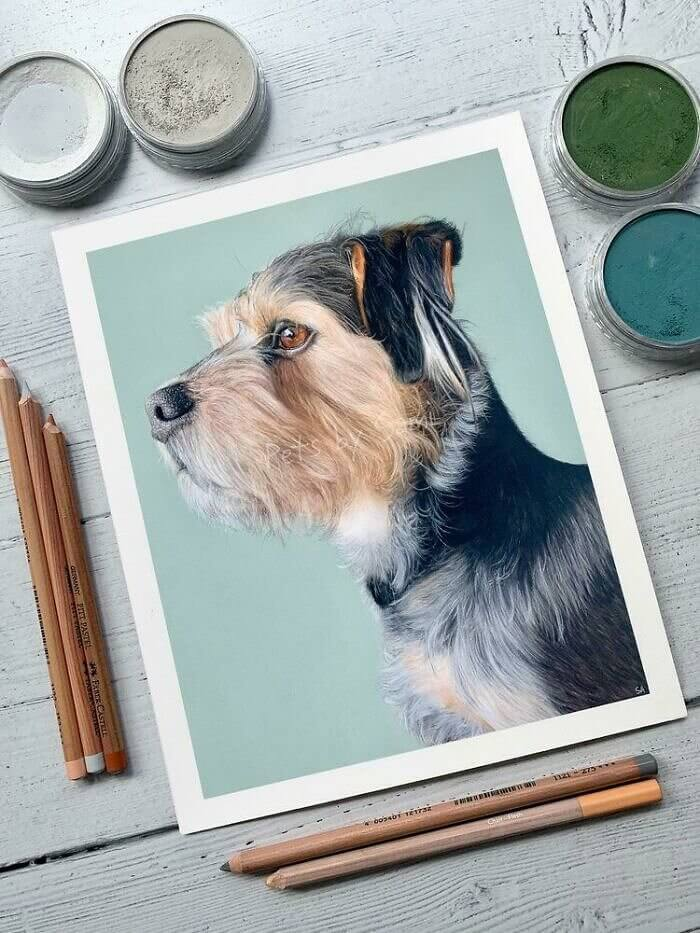 Without Hurting Or Killing Deer You Can Make Amazing Hairpins From Antlers
Deer from Fall to Winter shed their antlers. This is natural and doesn't give little bit of pain to the deer. This carver to create some beautifully detailed hairpins has used said shed antlers. The carving on the top left includes what in its center looks like an amber stone.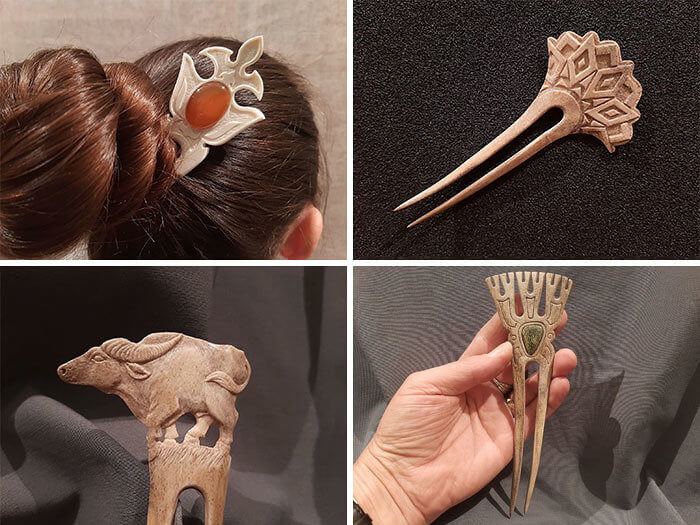 For My Partner, I Made This Pair of Tan Leather Ankle Boots
These boots were really made for walking! This original poster is clearly an amazing talented shoemaker. Whoever they are, to make this beautiful-looking pair of tan leather ankle boots. They have utilized their design and craftsmanship skills.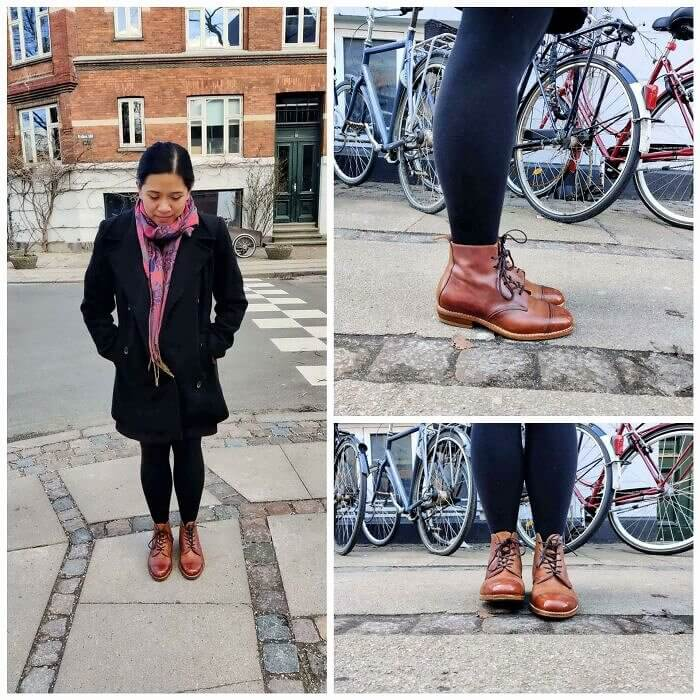 An Impressive and Amazing Portrait
The picture of the lady is a delicate, beautiful portrayal here. We like to know that you can still see the brush strokes. Behind this masterpiece giving you a real sense of the artistry. You can even see pops of pink eyeshadow if you look closely. That with the color of the lady's shirt ties in nicely.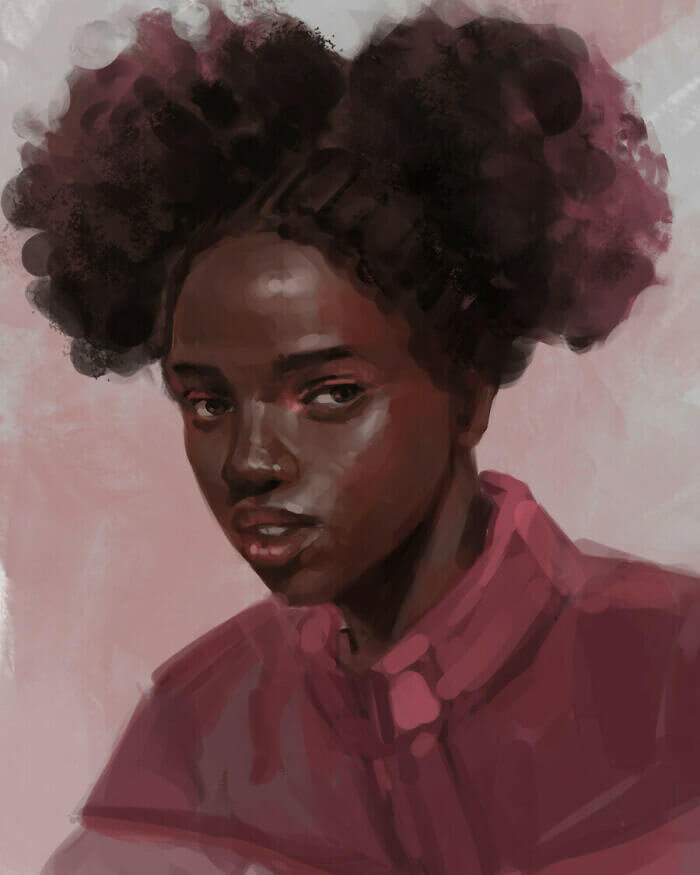 A Bed That as a Pirate's Ship Doubles
The creators have thought of everything from the jolly roger flag sailing. Above the head of the bed to the canon holes to the bed's side to the tiny ladder! The owner of this masterpiece is really a lucky kid indeed.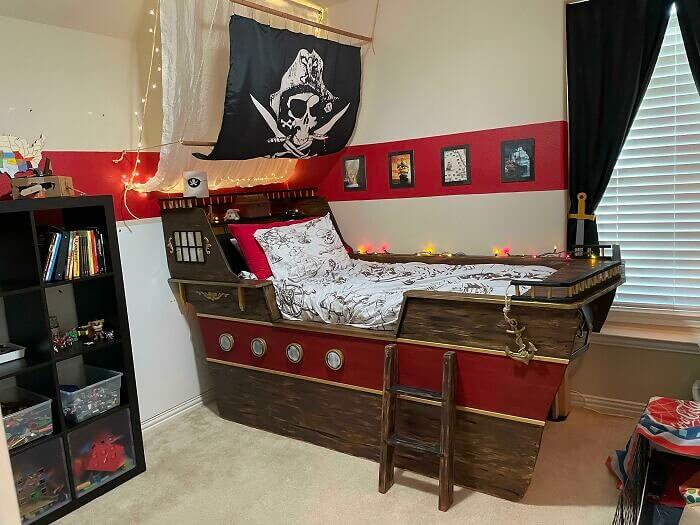 A Stunning Boquet
It's the perfect mixture of reds and pinks color, such a combination you have not seen before. We also like that the hat of the florist even matches her beautiful creation.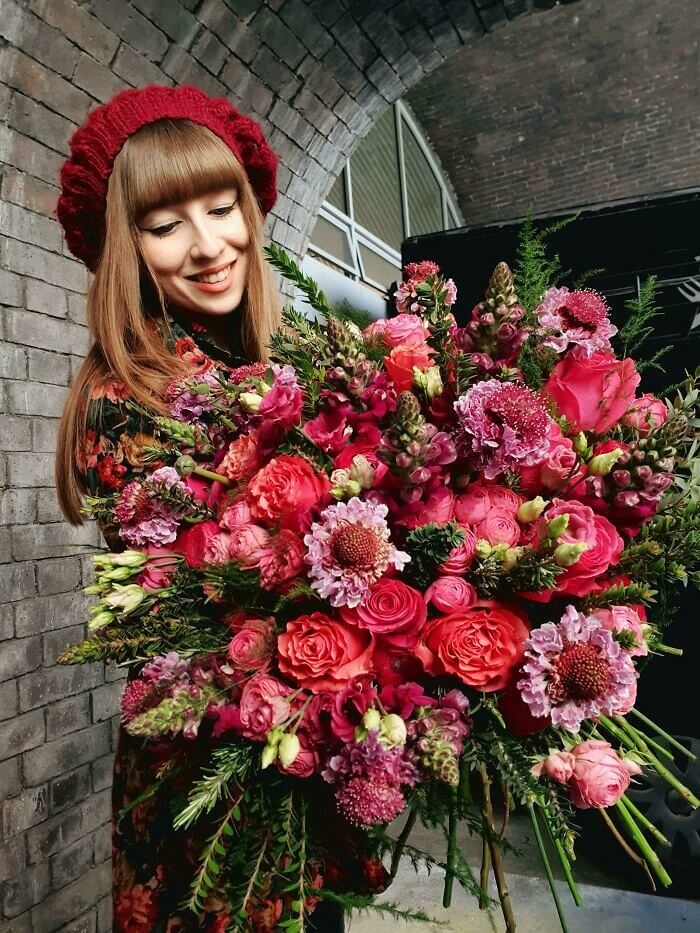 A Technicoloured Shirt
This tie-dyed t-shirt is seriously impressive in all seriousness. The quality of the pattern and the mixture of bright colors must have been unbelievable and difficult to achieve. So praise to this original poster.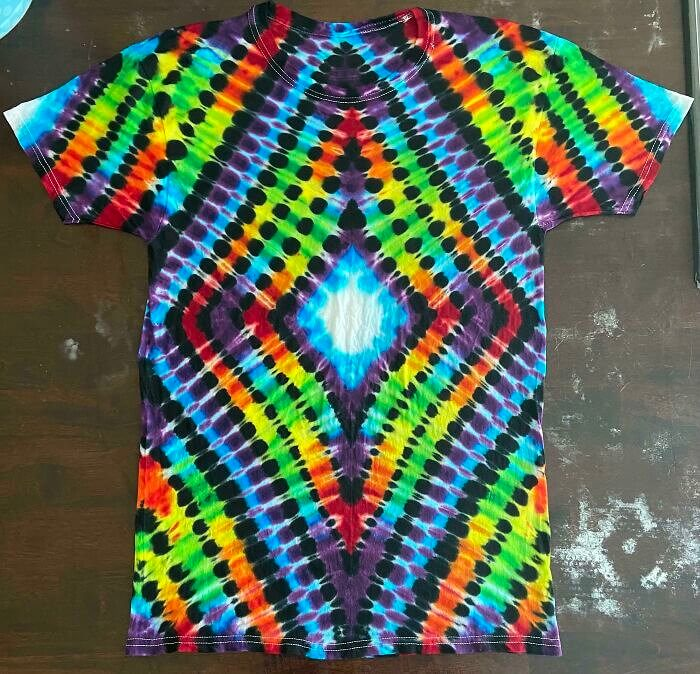 A Beautifully Welded Bear
The face of the bear is really impressive and adorable. We'd like to have this in our garden. But, of course, we can also imagine that such a creation would spend a lot of man's time. The creator produces all these welds and to produce this beauty with a struggle.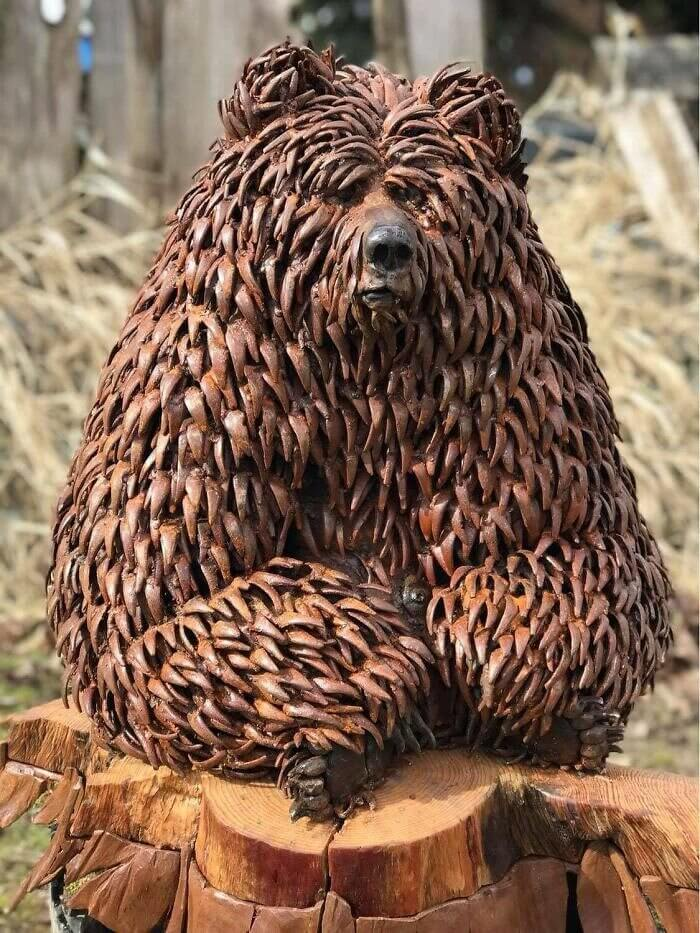 A Creepy Ghost Lady Made By The Chicken Wire
You can't ignore the fact that this handmade ghost lady is pretty impressive and attractive. For the residents of this home, it looks a tad tricky to get in and out!
We can understand that the neighbors probably had a little bit shocked. When on the first night they drove past this figure!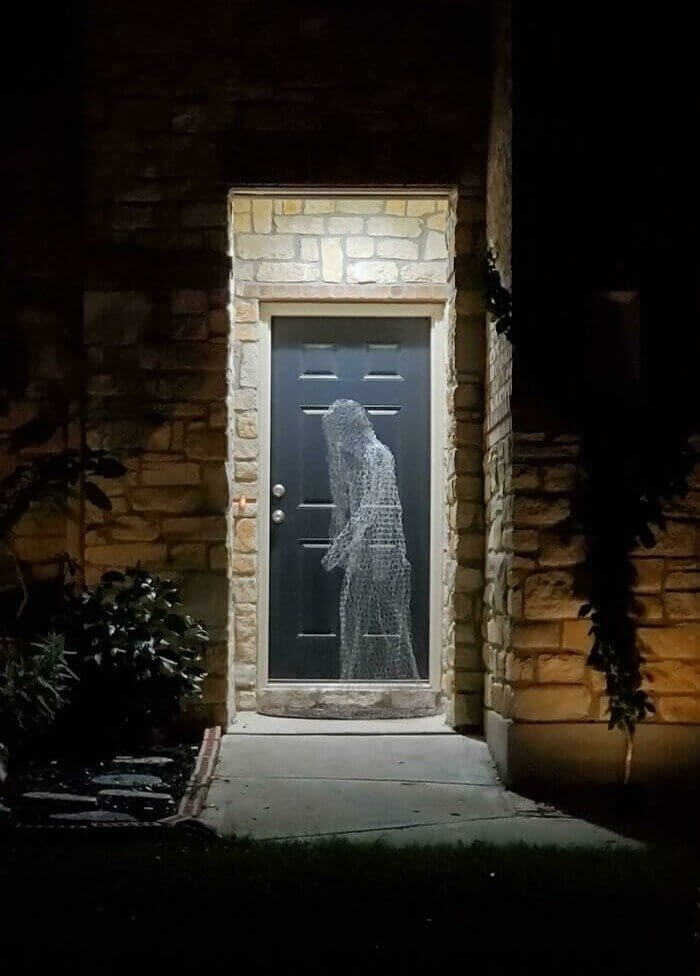 A Wooden Desk Ft. Cool LED Lights
This was a commission apparently that the original poster created out of scrap cuts and LED lights. We get fear from those people who in reality can take something worthless and create something beautiful.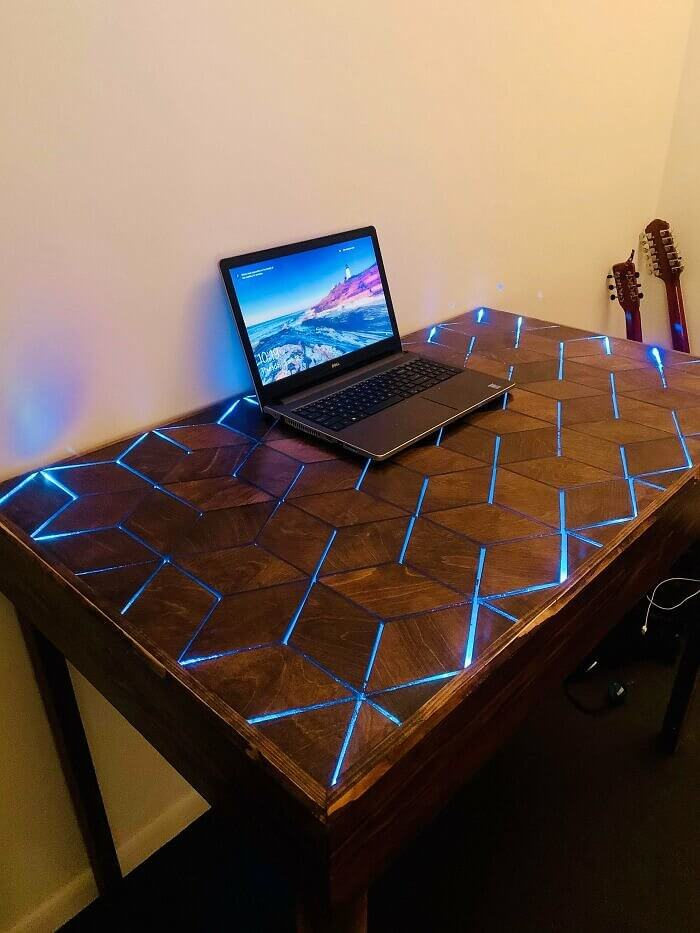 A Collection of Crochet House Plants
For any house plant lover, this would be the perfect solution. Who during the lockdowns was unable to go out and add to their collection. It's a near-on perfect replacement. They're also a great idea for those who can't keep plants alive.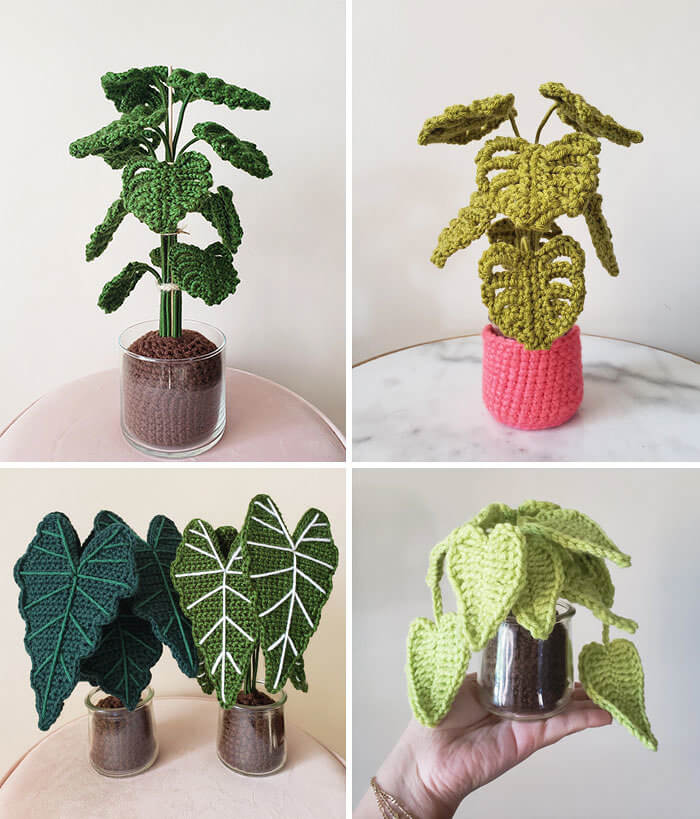 Mechanical Owl Key Hooks
You place your keys on the hook first. The hook on the back of the owl is attached to the wings. Then the hook down by the weight of your key and thereby the wings up.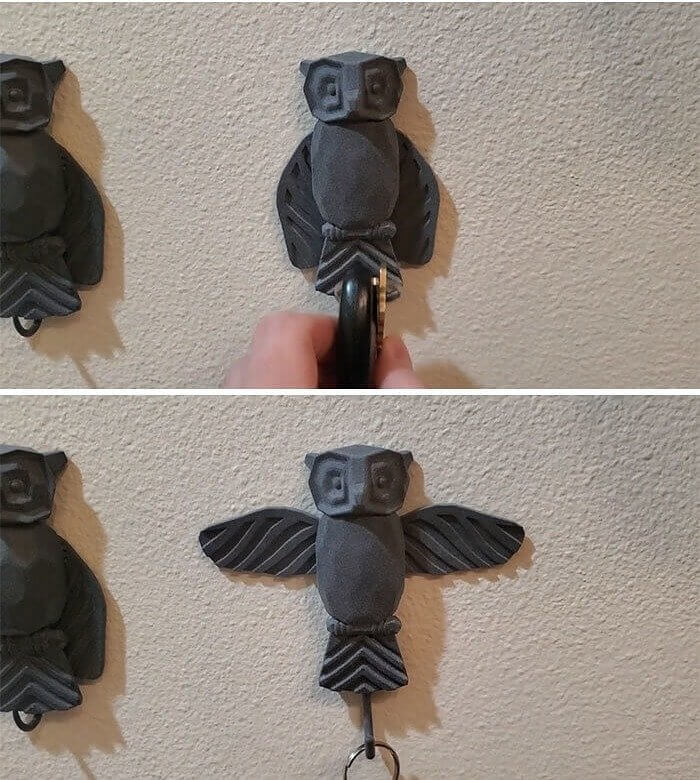 An Adult Friendship Bracelet
Literally, this snap made us laugh out loud. When we're looking here that there is an adult friendship bracelet made by someone. Who is really upset that their close one is moving away. We imagine their relationship is jokey and banter-filled at a certain limit.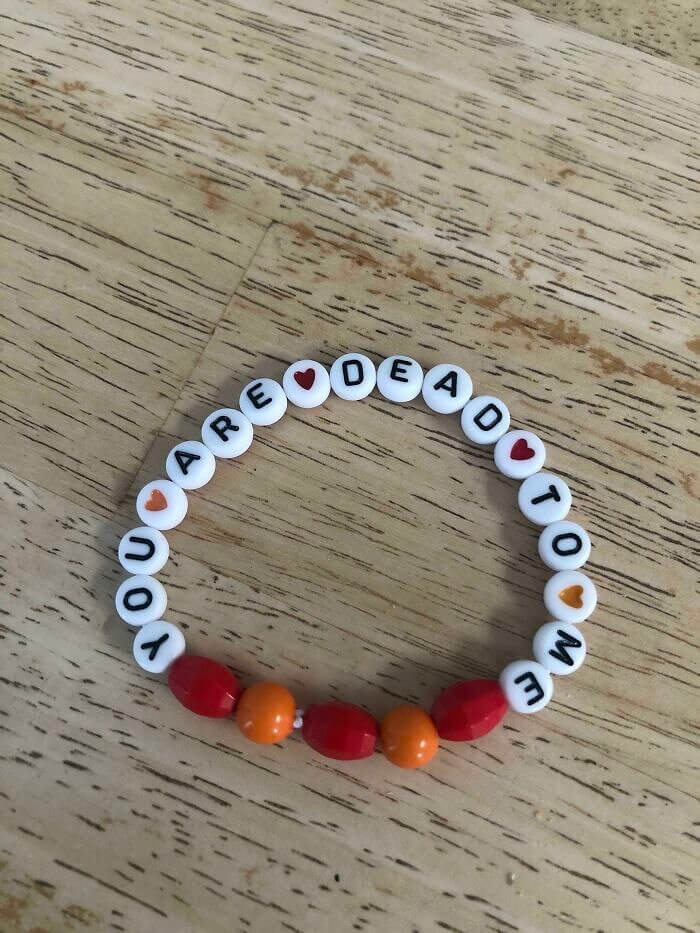 A Thoughtful Birthday Cake Made From Scratch
This Dad lovingly baked this cake for his daughter on his 11th birthday. Apparently, the diameter of this cake is 12 inches and the height is 10 inches. He made whole the frosting, filling, and cake from the start.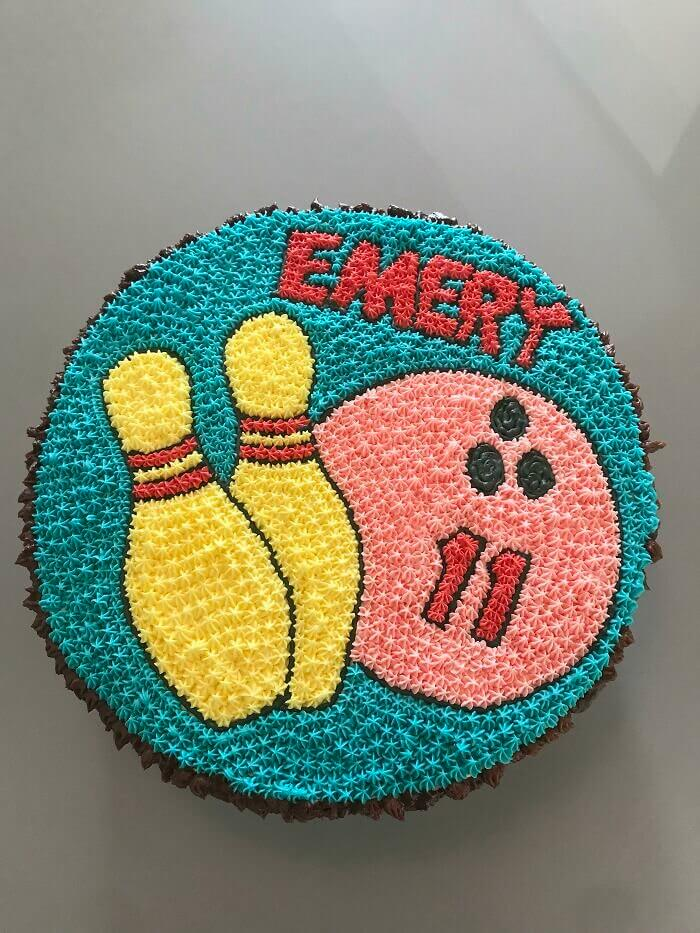 A Mushroom Mug
The original poster tautly said that Grumbles was the first of the species. The mushroom cap comes off if you're wondering how this mug works. We absolutely on the mug's face love the grumpy look; how much it cute.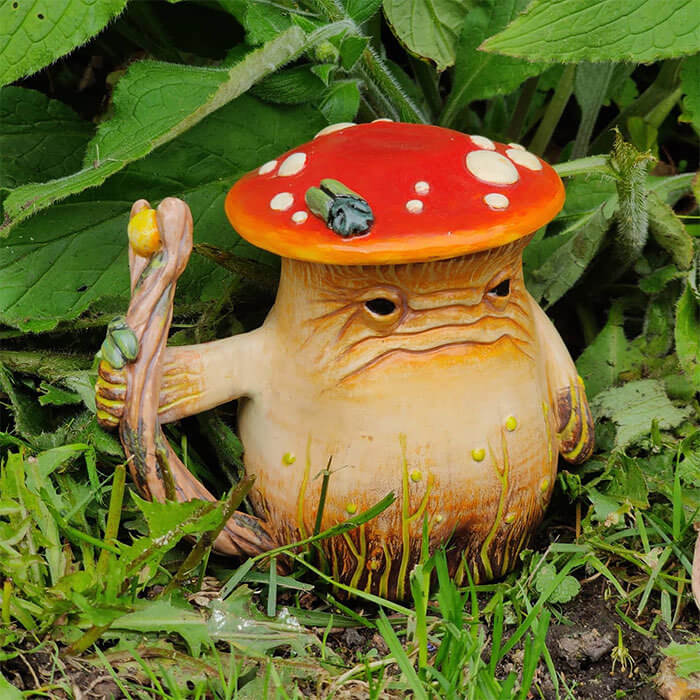 An Old Beer Bottle Made the Gem
This talented artist actually crafted from an old beer bottle this masterpiece out of a shard of glass. This is another at its finest instance of recycling; it's such a clever and great idea. You can just look at the shape of the gem and how it attracts the light. It really looks like a precious stone!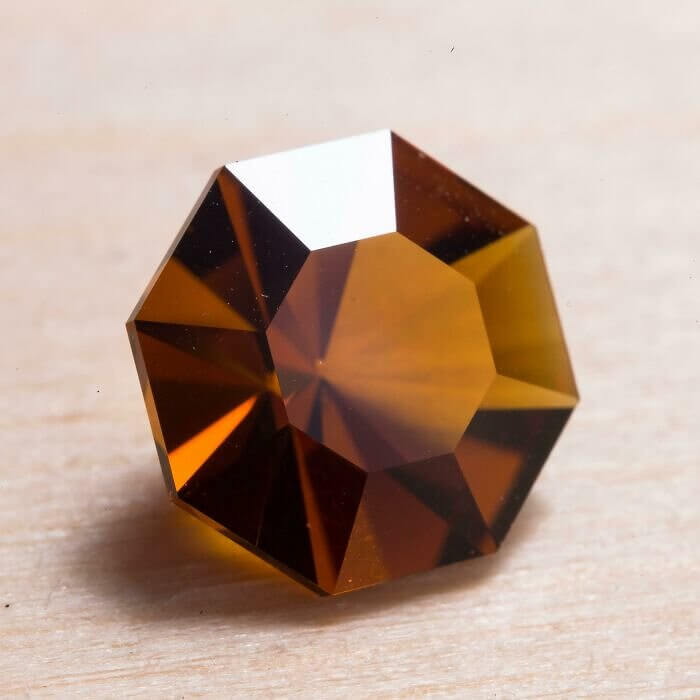 A Real-Life Tardis
This original poster's always wanted a secret room. So who tardis to make this dream come true this parent built him a Dr. As you see, the space inside is way bigger than it looks from the outside when you open the door.